QA Supplies offers a Min/Max Traceable® Thermometer for refrigerators and freezers that fulfills Centers for Disease Control and Prevention (CDC) requirements for temperature monitoring devices utilized with vaccine storage. Russ Holt, Sales & Marketing Manager at QA Supplies, states, "Investing in a reliable device is less expensive than replacing vaccines wasted due to the loss of potency that comes from storage at out-of-range temperatures."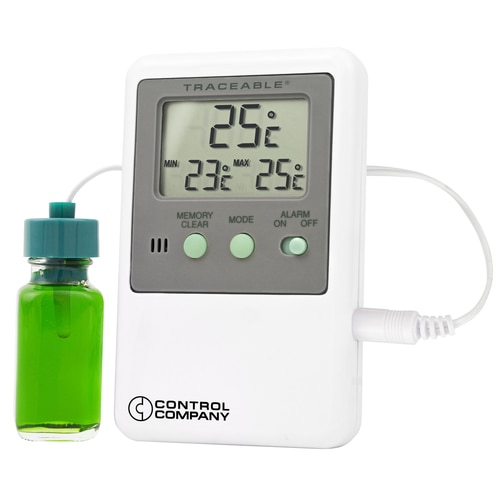 CDC Temperature Monitoring Device Requirements
According to the CDC, every vaccine storage unit and transport unit must have a temperature monitoring device in addition to at least one backup device for support if the primary device breaks or malfunctions. Vaccine providers should have an accurate temperature history to provide critical storage unit temperature information. A Certificate of Calibration Testing or Report of Calibration issued by an appropriate entity is necessary, as well. Temperature monitoring devices used for vaccine storage must fit within given temperature ranges to detect temperatures quickly and accurately outside of the recommended range.
Vaccine Storage: Refrigerator and Freezer Temperature Range Recommendations
Refrigerators should maintain temperatures between 2°C and 8° C (36°F and 46°F)
Freezers should maintain temperatures between -50°C and -15°C (-58°F and 5°F)
"Minimum and maximum daily storage temperatures should be recorded when storing vaccines – this makes our Min/Max Traceable® Thermometer especially convenient for use in vaccine storage," states Holt.
A Solution for Vaccine Storage
TheMin/Max Traceable® Thermometer accurately monitors temperatures in freezers, water baths, incubators, and refrigerators with an enclosed temperature-buffered sensor and Traceable® Certificate. The temperature-buffered sensor is enclosed in a bottle which insulates the sensor from rapid temperature changes when the refrigerator door is opened. The temperature range of -58° to 158°F complies with vaccine storage needs and the 10 ft. micro-cable permits refrigerator doors to close on it without damage. Min/Max Traceable® Thermometers can be placed on shelves with a flip-open stand or wall-mounted with Velcro® and magnetic strips. Holt describes the user-friendly operation by adding, "Users can quickly check the temperature with a bright digital display, and easily switch readings from Fahrenheit to Celsius, as well."
This product is in stock and now available at QA Supplies.