QA Supplies recommends the UHADO-16 and HASO- 8 humidity and temperature loggers for monitoring current humidity and temperature readings simultaneously. These unique products are ideal for recording and monitoring the environment within a barn, warehouse, cooler, refrigerated transportation, and more.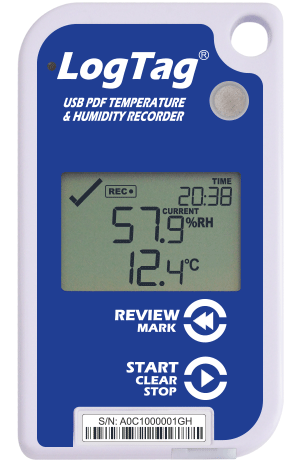 LogTag's UHADO-16 is a multi-use Humidity and Temperature USB PDF Logger which measures and stores up to 16,000 humidity and temperature readings simultaneously over a measurement range of 0 to 100%RH and -30°C to +70°C (-22°F to +158°F). The UHADO-16 display provides instant visibility of key statistics, current humidity and temperature readings, and a clear indication of alarm and recording status. It is fully configurable with customization options such as alert settings, logging interval and trip duration using the free LogTag Analyzer software, which provides facilities for charting, zooming, listing data statistics and allows exporting the data to other applications such as Excel. The UHADO-16 supports fast download using the standard and Wi-Fi LogTag interface cradles to upload and view data in LogTag Online, a Cloud-based online environmental management system providing alarm notifications, compliance, record storage and reporting functions. The logger can also automatically create PDF, CSV and LTD reports without the need to install proprietary software or hardware at the destination and can also be connected directly to a computer for configuration and data download using a standard Micro-USB to USB cable.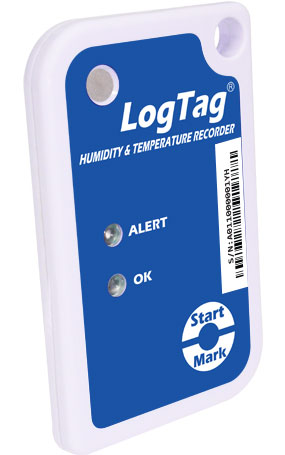 LogTag's HASO-8 is a single-use Humidity & Temperature logger which measures and stores up to 8000 sets of high-resolution humidity and temperature readings. It is equipped with a unique humidity & temperature sensor arrangement providing fast reaction time to humidity & temperature change and a real time clock which provides date/time stamps for each temperature reading. Using the LogTag Interface and the freely available companion software LogTag Analyzer, the HASO-8 is easily set-up for recording conditions including delayed start, sampling interval, number of readings, continuous or fixed number of readings and configuration of conditions to activate the ALERT indicator. Logged data from the HASO-8 can be processed using the readily available LogTag Analyzer and LogTag Online cloud.
The LogTag Humidity and Temperature Loggers comply with relevant international standards for temperature monitoring devices: - FDA 21 CFR Part 11, EC Annex 11, IATA's 2018 Dangerous Goods Regulations 59th Edition, FCC, CE, RCM, and RoHS. This demonstrates the quality and suitability of LogTag loggers for temperature monitoring applications where accuracy and consistency are required.
These products are available here at QA Supplies for professionals in need of perishable and environmental management equipment.