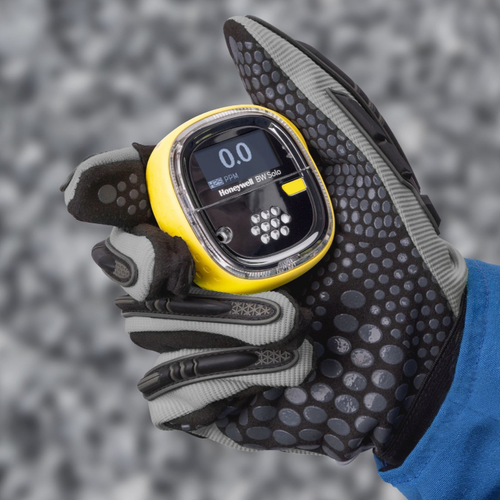 Are you looking for real-time visibility into the status and safety of hazardous environments?
Does your business aim to respond faster and more knowingly to safety incidents??
Honeywell BW™ Solo is an easy to service single-gas detector with BLE connectivity that serves as a user-friendly, portable gas monitoring system. The device is lightweight and easy to carry with an attached clip. Despite the small size of the 1-Series sensor, it delivers consistently accurate readings, standing up to temperatures from -40°C to 60°C — plus transient pressure, humidity and other environmental extremes.
Additionally, all data collected form the BW™ Solo or the docking station is downloadable to a PC, where it can be aggregated and managed through Honeywell's Safety Suite software platform to automate key compliance tasks like regulatory records management. QA Supplies offers wireless or non-wireless versions - Bluetooth™ Low Energy (BLE) with ability to connect to Honeywell's Safety Communicator App. Wireless selection is available when purchasing the BW™ Solo on our website.
Professionals love the low maintenance of this instrument! There is no need to take apart the Honeywell BW™ Solo to replace components. To change out the sensor filters, simply pop off a door on the front of the detector — no screwdriver required. Sensor and battery replacement are also easy!
Features & Benefits:
User-friendly operation
Easy-to-read display for multiple languages
Lightweight convenience
Ease of maintenance
Serviceability
The new 1-Series sensor for enhanced reliability Connected Bluetooth Low Energy (BLE) capabilities
Quick Specs:
High standards of sensor quality and reliability
The easiest single-gas detector to service
Complete with an extensive selection of sensor options
Weight: 103 to 116 g, depending on installed sensor
Battery Life: 12 months
Range: 0-1000 ppm
Resolution: 1 ppm
Operating Temperature: -4 to +104 F
Dimensions: 2.7 x 2.6 x 1.4 in.