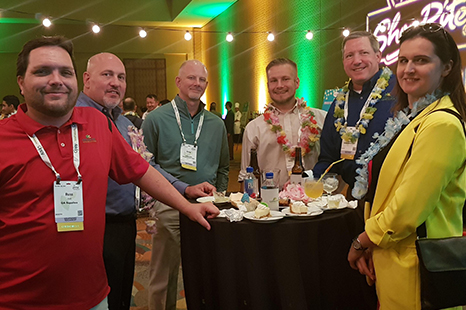 Russ Holt (QA Supplies), Leonard Felix (Felix Instruments), Greg Akins (Catalytic Generators), Steve Page (Catalytic Generators), and Anna Zegveld (Interko)
The National Mango Board, in conjunction with the Fresh Produce Association of the Americas, hosted the Annual Mango Industry Reception during PMA's Fresh Summit International Convention & Expo in Orlando, FL.
QA Supplies and sister company, Catalytic Generators served as a Gold Sponsor for this event where the National Mango Board announced the 2018 Retailer of the Year. This award honors retailers who offer strong and consistent support to the mango industry and deliver outstanding mango promotion results.
Catalytic Generators is eager to help the mango industry provide ripened fruit. QA Supplies provides firmness testers, BRIX meters, and more to ensure that your mangoes are at peak quality.